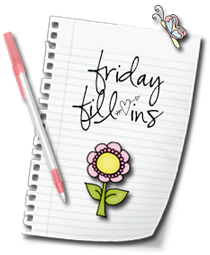 Graphic courtesy of
Tonya
!
1. That's a bitch to be.
2. You who! I'm over here!
3. The possibilities include: life and death.
4. Chili spaghetti & cheese is one of my favorite cool day recipes.
5. How will you know me after all these years?
6. A day off, a soft bed, a hot guy and a stormy sky. If no hot guy, then a steamy romance novel.
7. See my other # 7 from #140
I'm a week late for this version #140 so if I get the chance after the day job tomorrow I'll add edition #141 beneath this. 1. I feel
inspired - I just watched Julie & Julia again and have a lot more ideas for my blog. For instance, I'm still going to write about writing and my books, but I'll add more tidbits for transparency, like Julie did with her cooking project.
2.
Blogging
is always fun. -
Even when it feels like working. :)
3. Right now, I can hear these things:
my husband complaining, my daughter rolling her eyes (yes, I can HEAR that very LOUDLY!), the TV in the other room (undoubtedly a cop show knowing my hubby), and the hum of the ceiling fan.
4.
It's TGIF
and I'm glad
I don't have to wear fancy shoes and clothes for the next two days!
5. The last time I
saw people dress like Julia Child
was
in my parents' wedding photos
.
(It was pretty cool to imagine what it was like when my parents got married in 1950 about the same year Julia Child's sister Dorothy got married. I'm a genealogy buff so I love this sort of thing).
6.
Except for seeing Transformers 2 at the theater, I vegged out this past
Labor day weekend. 7. And as for the weekend, tonight I'm looking forward to
blogging and Twittering probably
, tomorrow my plans include
baking in the Sun and walking at my daughter's softball games
and Sunday, I want to
see Star Trek at the dollar theater - I hope it's still there
!
Let me expand on what I mentioned in fill-in number one: Although I've done it to a point, I'm going to TRY to express more of my feelings about writing and the publishing and promoting process in this blog. I'm also going to TRY and log at least one promotional thing I've done new each day. To kick this off, I found "LinkMommy.com" through a tweet on Twitter which I'm exploring as I blog. Did I mention I was ADHD? I have to multi-task or die. My idea of the worst torture is to make me do only one thing - well, maybe it's second next to getting eaten alive by an alligator or shark. On LinkMommy I found job ads which isn't exactly promoting, but if you've been following me, you know I'm anxious for my adult daughters to get gainful employment. I very happily and quickly sent the link to them to check out. I can't exactly vouch for LinkMommy, but I am going to check it out. The quote about free and very low cost advertising caught my interest. Of course, "low cost" is in the eye of the beholder. My idea of low cost is usually no more than $30.00 and really more like $10.00 or under.
Free
is extremely good for me. :) Weekends, like I mentioned in Fill-In #7 is the time I usually tour blog land and surf the net looking for promo opportunities and fun things. While most other people are taking weekends off, this is my main time to partake of my
second
job (writing/promoting). You'll also want to see what
Amarinda Jones
,
Anika Hamilton
,
Anny Cook
,
Barbara Huffert
,
Brynn Paulin
,
Bronwyn Green
,
Dakota Rebel
,
Kelly Kirch
,
Molly Daniels
,
Sandra Cox,
Regina Carlysle
, and
Cindy Spencer Pape
are up to, so
make
sure to
visit
them also. :)