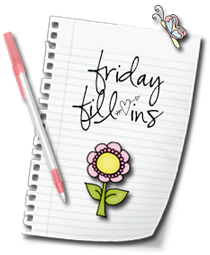 And...here we go!
1. So are we going
to the Fall Festival in Coconut Creek or the Chinese Buffet tonight
?
2.
Editing and more editing
is what's up ahead.
I have two edits to do this weekend. I'm afraid to look at my email to see if there are more edits.
3. I love to
spend time with my husband (he's so busy it's not been happening lately) and eat sushi - will do both tonight.
4.
I want to do exercise this weekend (probably walking and swimming)
of some sort.
5. I walk a
little late, but I used to walk an hour or more a day. I want to start doing that again.
6.
Water
is the true elixir of life!
7. And as for the weekend, tonight I'm looking forward to
spending time with my hubby tonight,
tomorrow my plans include
editing while I'm at my daughter's softball practice, then stop at a local crafts fair, go to the gym to swim and walk on the treadmill, then more editing,
and Sunday, I want to
sleep in late as my daughter's softball tournament games aren't till late in the afternoon. Of course I will also write while I'm watching my daughter's games.
I don't know about you, but I love Fall. Unfortunately, there's not much of it in South Florida. Day times are still sweltering in the 90's. We don't get the lovely change of color cooler climates enjoy. But usually there's still a nip in the air and the spirit of autumn, harvest, and Halloween is in the air.

I miss Cincinnati in October, too, because of Octoberfest. Cincinnati shuts down its downtown to traffic and has the best Octoberfest in the US. If you're new to my blog, I'm from Cincinnati although I've lived in South Florida for twenty years and in Southern Mississippi for almost ten years before that.

Autumn colors are pretty so I like the crafts. I do a lot of my Christmas shopping at crafts fairs. At least I'd like to. Depending how much time I spend at the craft fair tomorrow will decide if I have time to go to the gym, too. I HAVE TO EDIT!

Recent posts you might like to read:
Author Interview: Claire Ashgrove
Ghost Hunting at a Haunted Hotel
Welcome to the Spookiest Month of the Year (+ don't burn your Ouija Board!)
People Don't Fall Out of Trees - Without Reason
I'm Part of a Tribe
Big Brother Is Watching You - This Means You BLOGGERS!
Are You Writing Me Into Your Book?
Dont Give Up Too Early
Must Write Must Write Must Write!!!
You'll also want to see what Amarinda Jones, Anika Hamilton, Anny Cook,
Barbara Huffert, Brynn Paulin, Bronwyn Green, Dakota Rebel, Kelly Kirch,
Molly Daniels, Sandra Cox, Regina Carlysle, and Cindy Spencer Pape
are up to, so make sure to visit them also. :)