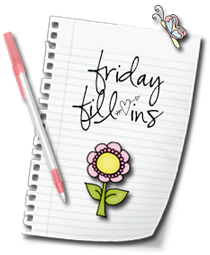 Here's this week's answers.
1. Sweet dreams , Gracie.
2.
I need some time
especially for me.
3. Silliness
makes me feel young again
.
4.

My daughter start her own blog

this Halloween. It's called: Graveyard Secrets. Please visit and leave her a comment.

5. Outstanding or not I love my kids.
6. A doctor who believes me that Levaquin might have caused my sore legs and look into it
is what I want right now!
7. And as for the weekend, tonight I'm looking forward to resting and watching Smallville, tomorrow my plans include working on another edit, and Sunday, I want to sleep late and rest, but I have to take my younger daughter to her Fall Ball softball tournament and leave that early to visit a sick friend from work and take her stuff that she left at work.
Have a great weekend everybody.
Above I mentioned a possible side-effect because of a prescribed medication - Levaquin.
I've been having pain and swelling in my legs and have been having trouble walking since about a week after I got over the pneumonia this past July. I've also had trouble with shortness of breath.
Since then, I've had three different doctors running tests on me to figure out why, so far with no luck. It's been very frustrating and I think the doctors think it's all caused by me being overweight or that I'm dreaming this up.
Today, one of my co-workers told me that Levaquin is causing these types of symptoms, that she is having to take her mother to the doctor because of them. The light bulb went on in my head so I immediately went online to look this up. This month, October 2009, the FDA has announced that Levaquin has been causing tendonitis, ruptured tendons, soreness in joints, shortness of breath.
Levaquin is prescribed for respiratory illnesses such as pneumonia and bronchitis.
I wasn't sure if I'd had it but it sounded familiar. So I called my doctor and they confirmed that they had prescribed it to me on July 21, 2009.
That makes sense. It was about a week after I started getting better from the pneumonia that my legs started swelling and hurting and I started having trouble walking. My doctor then said it could be a reaction to a medicine I'd had for the pneumonia. Then, however, she thought it was a medicine the hospital had given me.
When I asked my doctor today if she thought the Levaquin could be the cause of my current problems, she had her nurse tell me, "No. I wasn't having blood clots and it's too long after."
According to the articles online (several, not just one) the symptoms can last a long time, not show up for a long time, and even cause permanent injury.
I don't know if my doctor really doesn't know all this or if she's afraid to say Levaquin could be the root of my problems as maybe she's afraid I'd sue her?
I wasn't planning to sue her. I just want to get well. I don't want to be ill or crippled for life or even for another week. I just want to find out what's wrong with me and get better.
But I'm not at all happy with her answer because I don't believe it. Her answer does not agree with anyone I've been reading today.
I'm not going to let this drop easily. I'm going to check with another doctor who will at least check this out.
If Levaquin isn't the culprit I want to know for sure then find the real reason and fix it.

Recent posts you might like to read:
People Don't Fall Out of Trees - Without Reason
I'm Part of a Tribe
Sayonara Baby
Don't Bomb Your Audience With Turkeys
Are You Writing Me Into Your Book?
Dont Give Up Too Early
Welcome to the Spookiest Month of the Year (+ don't burn your Ouija Board!)
Friday Fill-ins Oct. 2 (& e-Readers)
You'll also want to see what Amarinda Jones, Anika Hamilton, Anny Cook,
Barbara Huffert, Brynn Paulin, Bronwyn Green, Dakota Rebel, Kelly Kirch,
Molly Daniels, Sandra Cox, Regina Carlysle, and Cindy Spencer Pape
are up to, so make sure to visit them also. :)